Loading results...
Truck engine
Costs can build up quickly when your engine fails. Remanufacturing an engine is a time consuming process. You can choose for a used replacement engine at BAS Parts to get your truck running in the quickest and most cost-effective way possible. Engines get tested before they are put in stock at BAS Parts. Look below to find the right type with the desired mileage and specifications. Like, power-output, Euronorm and registration year.
Read more
Parts is added to favorites
How does a truck engine work?
A truck engine is typically a heavy-duty diesel engine that operates on the principle of internal combustion. The engine compresses air in the cylinders, after which fuel is injected and ignited due to the high pressure and temperature. The resulting explosion drives the pistons, which in turn set the crankshaft in motion. This mechanical energy is transferred to the wheels through the drive system, thereby setting the truck in motion and providing the necessary traction to transport heavy loads.
How to recognize a faulty truck engine?
A faulty truck engine can exhibit various symptoms, such as abnormal sounds like ticking, knocking, or rattling, reduced power or acceleration, smoke from the exhaust, excessive oil consumption, overheating, vibrations or shaking, irregular idling, and warning lights illuminating on the dashboard. It's important to take these signs seriously and promptly seek professional diagnosis to prevent further damage to the engine.
New and used truck engines for sale at BAS Parts
BAS Parts offers a wide range of new and used truck engines from renowned brands such as Volvo, Renault, DAF, Mercedes, MAN, Scania, and Iveco. With the selection of different truck engines available at BAS Parts, you can find the right engine that meets your specific requirements and needs. Whether it's a new engine for maximum reliability and performance or a used engine as a cost-effective solution, BAS Parts is ready to supply high-quality truck engines that promote the continuity and efficiency of your truck fleet.
Buy your truck engine online at BAS Parts
If you're looking for a reliable online specialist in truck spare parts where you can purchase a truck engine for your vehicle, then BAS Parts is the right choice. You'll find a wide selection of truck engines from various brands with us. We offer affordable prices and high-quality truck components, ensuring you always make the best choice for your truck. Contact us today to discover what we can do for you.
Assortment
We have a wide range of engine types in stock. Most of them are engines for Volvo, Renault and DAF trucks.  
Volvo
The Volvo FH4 can be equipped with a D13K, G13C or D16K engine. With power-outputs ranging from 420 hp to 750 horsepower in the FH16! Earlier generations of the FH series were build with D12A, D12C, D12D or D12F engines. According to many, this D12 engine was a real revolution when this was brought out in 1993.
In 2005 Volvo launced a new engine, known as the D13. Big changes were made to the existing D12 to meet the ever-changing emission rules.
The D13A, D13B and D13C were available in the third generation of the Volvo FH. Later this 13 liter engine (12.777cc) was made ready for Euro 6 applications in the form of the D13K. There are 14 different power levels possible in the D13 engine, ranging from 375 hp to 500 hp.
Besides the most popular D12 and D13 engines, Volvo also has 5, 6, 7, 8 and 11 liter engines. The relatively smaller D7C and D7E engines are used in the Volvo FL and FE and Volvo busses. The D11 engines are mostly used in the Volvo FM.  
DAF
The newest DAF XF and CF trucks use PACCAR MX engines. These are the MX13 and MX11. The MX-13 has three versions: the MX-13 315 (428 hp), MX-13 355 (483 hp) and the MX-13 390 (530 hp). The MX-13 is a very similar engine to the D13 engine of Volvo. The MX13 also uses common rail technology, a variable turbo (VGT) and also is a 6 cylinder in-line configuration. The DAF however, is 200 cc larger and has a higher compression rate.  
Renault
The connection between Volvo and Renault is quite clear, also in the form of engines. The newest Euro 6 engines in the Renault T and other models are the DTI range of engines. For heavy trucks this is the DTI 11 and DTI 13. The DTI 13 is delivered with either 440 hp, 480 hp or 520 hp.
The lighter trucks are equiped with 5 and 8 liter engines. The DTI 5 is a four-cylinder and comes with 210 or 240 horsepower. The DTI 8 is a six-cylinder with 250, 280 or 320 horsepower.
The predecessor of the DTI was the DXi in Euro 4 and Euro 5 trucks. Before that, there were dCi engines in the Euro 3 models.  
Engine brake
Manufacturers are always finding ways to reduce running costs for the customer. One of those ways is the engine brake. By using smart camshaft designs, the truck can be slowed down without using the normal brakes. Volvo calls it VEB+ (Volvo Engine Brake). At DAF they speak of the MX Engine Brake.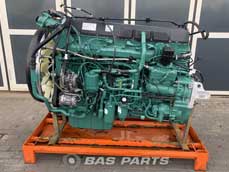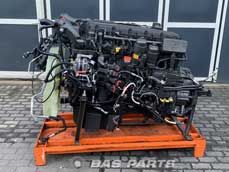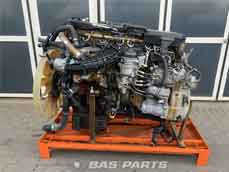 We like to inform you about our stock and special offers!
new website